---
What is a Bitcoin Faucet?
A bitcoin faucet is a website that gives you free bitcoin in exchange for completing tasks.

These tasks are actions that make money for the website from referrals, whether filling out surveys, watching ads, or similar actions. The best bitcoin faucets maximize earnings while minimizing time investment and difficulty.
The reward back is often very small; on most faucets you need to build up a lot of money before you can withdraw it. But don't worry, bitcoin is designed to appreciate in value, making those small pieces worth a lot more. Some early bitcoin faucet users became very rich just by saving a few dollars worth of bitcoin.
One of the goals we had creating Lolli was to give users an easy faucet to earn a significant amount of bitcoin. By our estimates, Lolli users earn up to 50x more with the same amount of time spent at other faucets.
Most bitcoin faucets are tedious but still give users small bitcoin for tasks. We've compiled some of the best bitcoin faucets out there.
---
Cointiply
Cointiply is one of the more popular bitcoin faucets, which is not surprising, given that it has some of the highest payouts. You can collect up to 200 satoshis per hour, but you need a minimum of 35,000 satoshis to make a withdrawal to FaucetHub, which is an online wallet service that integrates with multiple bitcoin faucets. Alternatively, if you accumulate over 100,000 satoshis, you can withdraw directly to a bitcoin wallet.
Cointiply, true to its name, offers a bitcoin multiplier where you can make bets to multiply (or lose) your bitcoin. The highest multiplier is 61.3, which means you could turn 10 satoshis into 613 satoshis. Or more likely, lose it all. After all, Cointiply has to make money somehow, right?
Like most faucets, Cointiply allows you to earn by watching ads or taking surveys. The surveys can be found in a section called "offer walls." When you open an offer wall, you will see multiple options for taking surveys, and when you fill them out, you will get your satoshis credited to your account.
Besides filling out surveys, Cointiply provides opportunities to users to earn by accepting offer walls. This may mean downloading an app or signing up for free trials and contests. Usually, offers require contact information for people to qualify.
Cointiply also allows you to earn small amounts of coins by allowing the website to use your computer's CPU to mine cryptocurrency. Be aware, though, that this will consume electricity which will probably cost more than the coins you earn (at least for now!).
Cointiply has lots of bonuses for logging in every day and completing tasks. Overall, it is one of the best and most feature-rich Bitcoin faucets around.
---
BTCClicks
BTCClicks is one of the older and more reputable bitcoin faucets on the market.
BTCClicks does not have nearly as many options for earning as Cointiply, but you can still earn a fair amount with it. Its business model operates almost entirely on advertisements, and you can earn up to 26 satoshis for each ad that you click.
The minimum withdrawal is 10,000 satoshis.
---
Bitcoin Aliens
Bitcoin Aliens is definitely the most fun option on this list. It is actually an Android and iOS Temple Run-style game that rewards you with free bitcoin for playing. You should be aware, though, that it makes its money by collecting data from your phone, so if you are uncomfortable with that, you might want to give it a miss.
Some users have reported earning up to 4,000 satoshis per hour with it, and the minimum withdrawal is 30,000 satoshis.
---
Satoshi Quiz
Satoshi Quiz is likely the best option for trivia lovers. Every 60 seconds, a question appears on the screen, and the first three people online who answer it correctly win a small amount of bitcoin!
The payouts are quite small, and you need 11,000 satoshis to make a withdrawal, but it might be a fun way to earn a bit while you are waiting for other faucet timers to reset.
---
Moon Bitcoin
Moon Bitcoin is pretty much like the other faucets on this list— watch ads or perform other menial online tasks, and earn small amounts of bitcoin. Moon bitcoin may not have the highest earnings on the list, but what sets it apart is the ability to withdrawal earnings anytime. It has no minimum requirement on amounts for withdrawal.
Moon Bitcoin also offers referral bonuses if you can convince your friends or family to sign up and use it.
To use Moon Bitcoin you will need a CoinPot account. CoinPot is a service that integrates with bitcoin faucets. It does have a minimum withdrawal amount, but since you can use other faucets with it, it should be easier to reach the threshold than with just one faucet in use.
You can withdraw from CoinPot if your balance is above 10,000 satoshis, but you'll have to pay a fee. If you wait until you have accumulated 50,000 satoshis, you can withdraw without a fee, however. This may be preferable to struggling to get the minimum withdrawal amount with an individual faucet.
---
Bonus Bitcoin
Bonus Bitcoin is another faucet that works with CoinPot. It's an older, well established, and reputable, but it can be buggy and it takes some patience to withdraw money from it.
With Bonus Bitcoin, you can claim a reward every 15 minutes. The average payout per claim is around 24 satoshis.
---
Bitcoinker
Bitcoinker is another established faucet that awards satoshis on the basis of a dice roll. Theoretically, you could win up to 100,000 satoshis every 5 minutes, but this is extremely unlikely. Realistically, most rolls are more likely to be around 7 satoshis.
Bitcoinker has a relatively generous referrals program as well and provides a 10% commission for any referrals you make.
---
Lolli
Lolli is not exactly a bitcoin faucet, but it's one of the best ways to earn free bitcoin. Lolli is partnered with online merchants; our partners give you back bitcoin whenever you shop through us. The average commission is 7% bitcoin back with some merchants offering up to 30% sats back on everyday purchases. You can earn a lot more bitcoin back with our percentages than at pretty much any faucet and all it takes is to shop just like normal.
Of course, you do have to spend money, but if it's money you would be spending its free bitcoin in your pocket (wallet). With Lolli, everyone wins! 🚀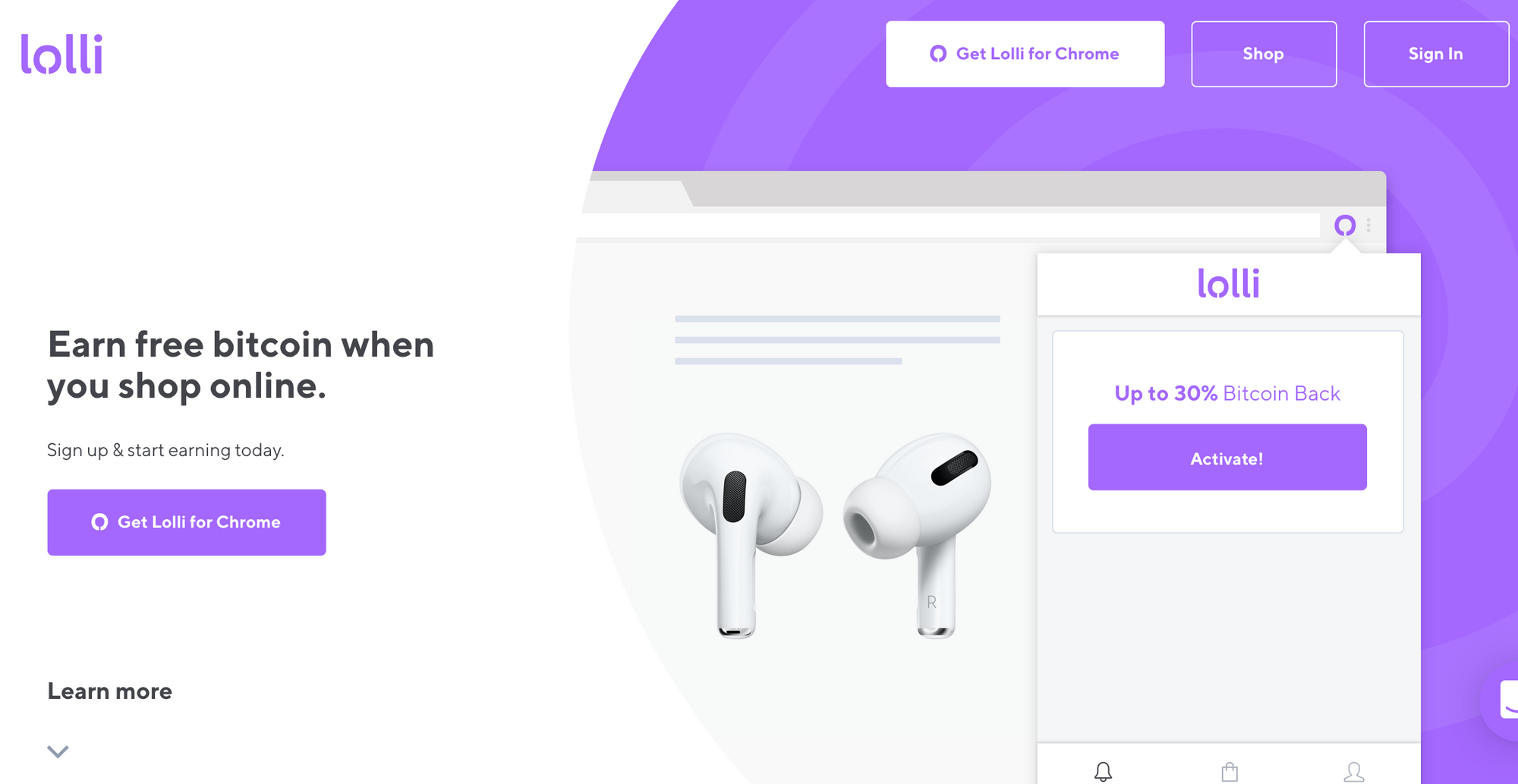 ---