Today, we're excited to announce that Aubrey Strobel has joined the Lolli team as Head of Communications where she will oversee public relations and communications efforts on behalf of our company.
Aubrey comes from Wachsman, the leading blockchain public relations and consulting firm headquartered in New York. While at Wachsman, she worked with high-profile accounts such as CoinDesk, Dash, tZERO, and served as the leading media organizer for the Consensus conference series.
"I was drawn to Lolli immediately because it meets the world where it's at in the journey to bitcoin adoption," Aubrey said. "I'm excited to work with this talented team, share our story, and make Lolli a household name."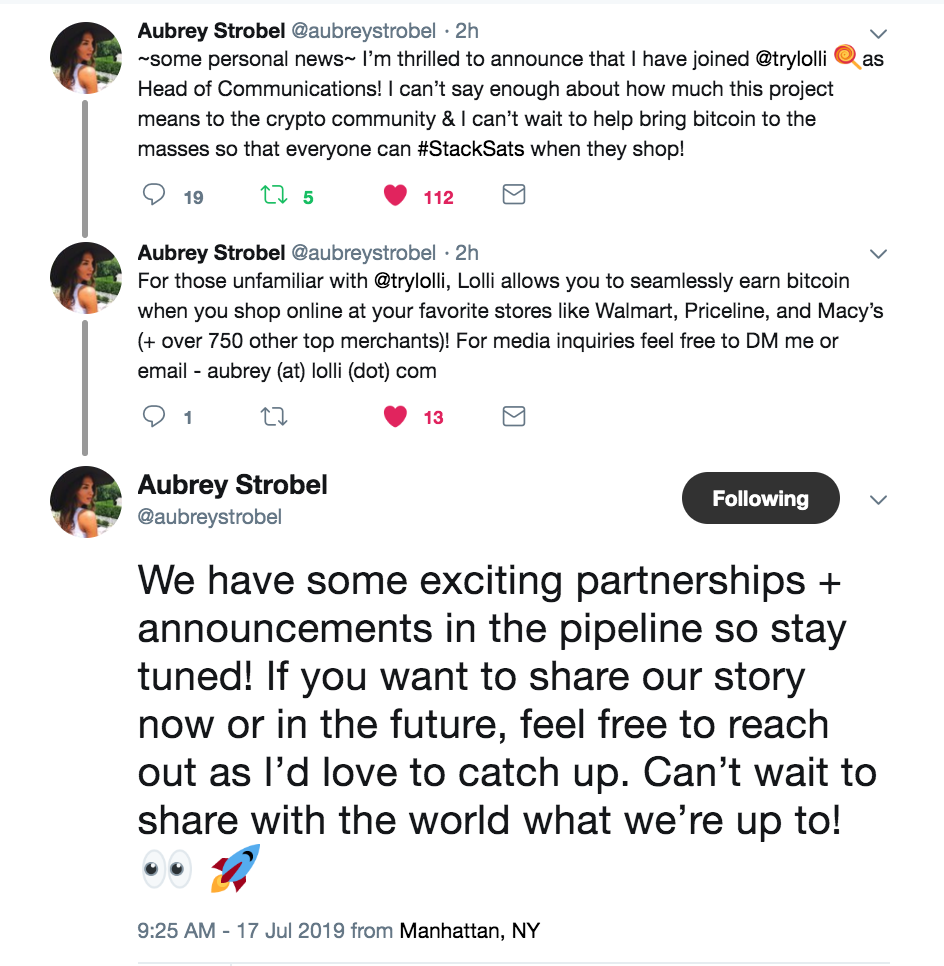 Prior to Wachsman, Aubrey was a fellow at BerlinRosen, a political advocacy public affairs firm, where she serviced criminal justice reform clients. A former broadcast journalist for KRWG-TV in Southern New Mexico and West Texas, Aubrey reported on the U.S./Mexico borderland as well as the 2016 Presidential Primaries.
In her spare time, Aubrey likes to play guitar. She prides herself on being an insufferable Philadelphia Eagles fan and loves spending time in Stone Harbor, New Jersey.
We are thrilled to have Aubrey join our team!
Best,
Alex & the Lolli team 🍭
+++
Q&A with Aubrey Strobel:
What's your favorite store to shop at?
Tough one! Can I say two? Sephora and SeatGeek!
Favorite item bought using Lolli?
Yankees tickets for my mom and I!
What attracts you to bitcoin?
Bitcoin is the first and it has never failed. For me, bitcoin represents freedom. I love that bitcoin provides people the ability to be their own bank. A universal currency is needed. It should not be difficult in 2019 to send money across the world. I believe one day it won't be.
Feel free to ask Aubrey more questions or reach out for media inquiries at aubrey(at)lolli(dot)com or on Twitter at @aubreystrobel.