Today, we're excited to announce the launch of our newest partner and first food delivery company, Caviar.
Caviar is offering 3.5% bitcoin back on all purchases for Lolli users. You can now stack sats when you order breakfast, lunch, AND dinner on www.trycaviar.com. Earn when you eat and stack when you snack.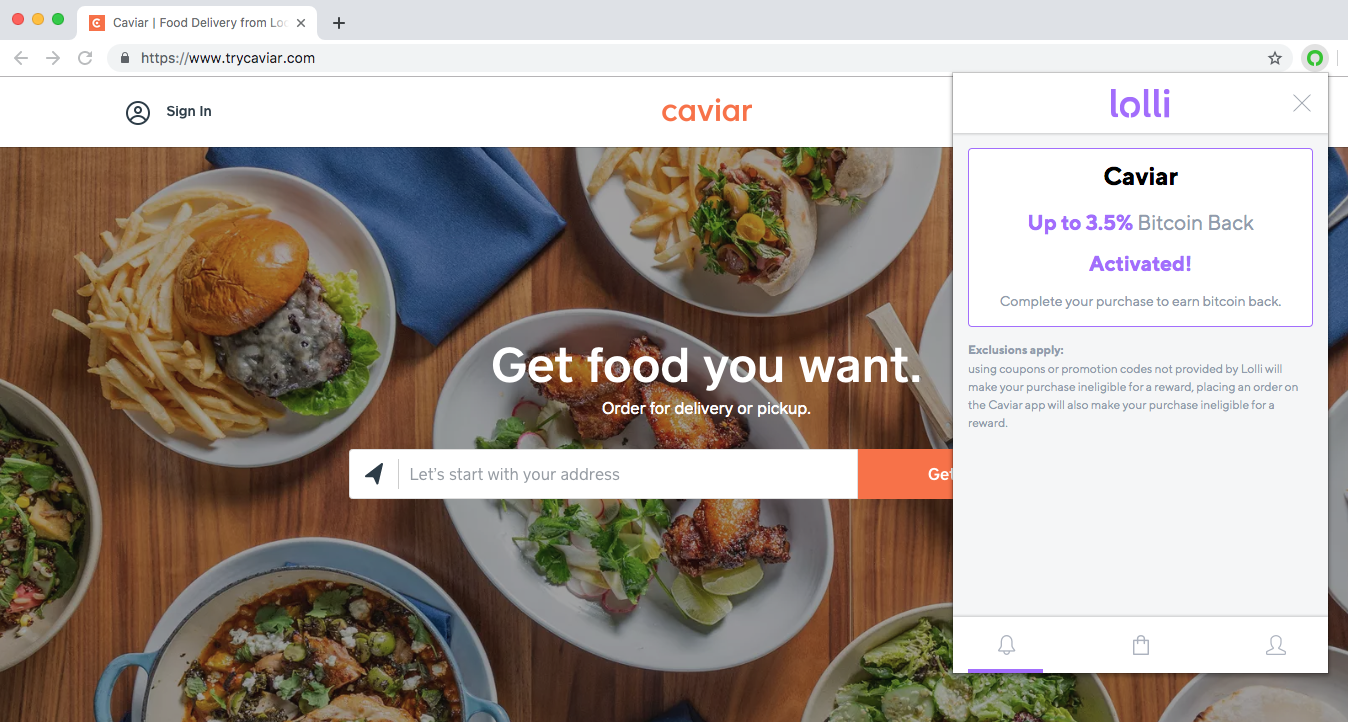 Earning vs Spending
In 2010, a man by the name of Laszlo Hanyecz, more famously known as the "Bitcoin pizza guy", bought two Papa John's pizzas for 10,000 BTC. At the time, bitcoin wasn't even valued at one U.S. penny. Today, each bitcoin is worth about $8,000! Laszlo's 10,000 BTC he spent on those two pizzas would be worth about $80M today. We're sorry Laszlo – we appreciate you and wish we were there for you in 2010 so we could have helped you stack sats instead of spend them!
Let's go back in time and play out a scenario where Laszlo bought his pizzas using Lolli. In a perfect world, he would have used Caviar for food delivery and earned 3.5% back on ~$25/10,000 BTC pizza order and earned 350 BTC!
If Laszlo used Lolli, he would have earned 350 BTC, which would be valued today at ~$2,750,000.00.
So don't be like Laszlo, earn bitcoin back on your everyday purchases.
Making Bitcoin Part of Your Everyday Life
Over the past 8 months, Lolli has earned tens of thousands of people free bitcoin when they shop for groceries, travel, clothes, furniture, etc. We've tested, learned, and refined our product to make it easier for users to earn bitcoin back from more places.
We want to create rituals around bitcoin. Cashback and point programs are already a part of our everyday lives. In order for bitcoin to reach the masses, we need to introduce them to earning bitcoin for everyday purchases and make bitcoin a part of their daily ritual.
Our partnership with Caviar is an affirmation of our goals and vision: making bitcoin easily accessible to all.
How to Earn
Go to www.lolli.com/stores
Search for "Caviar" and press the "Shop" button
Order from Caviar as you normally would. :)

Happy stacking AND snacking. :)
Love,
Alex & the Lolli team