---
Earn 4% bitcoin back at StockX, the leading marketplace for reselling sneakers, and invest in two asset classes (sneakers + bitcoin) in one purchase.
---
March 26th is Air Max Day–when we celebrate one of the most iconic sneakers ever to hit ground. Every year, Nike announces their new Air Max collection on March 26th, and fans come together to show love.
StockX is the internet's hub for buying and reselling Air Maxes, and allows users to earn up to 4% bitcoin back on the most coveted sneakers. It's also the leading marketplace for streetwear from top brands like OffWhite and Supreme, classic and cutting-edge watches, designer collectibles, and top electronics, and gaming goods.
The sneaker reselling industry has made sneakers into a powerful alternative asset class. For many buyers and sellers seeking returns, sneakers are seen as a strong investment opportunity, particularly after a year in 2020 that saw marked gains in the market. According to StockX, Air Maxes saw a particular boost this year, with an 800% increase in market share on the site since 2019.
A strong market gave sellers something to celebrate. According to data from StockX on the biggest year-over-year price increases for Air Maxes sold on StockX, 2020 saw big hikes in sneaker values.
See below for the biggest  percentage increases in Air Max prices between Q1 2019 and Q1 2020.
---
Air Max Price Appreciation – look at those gains 👀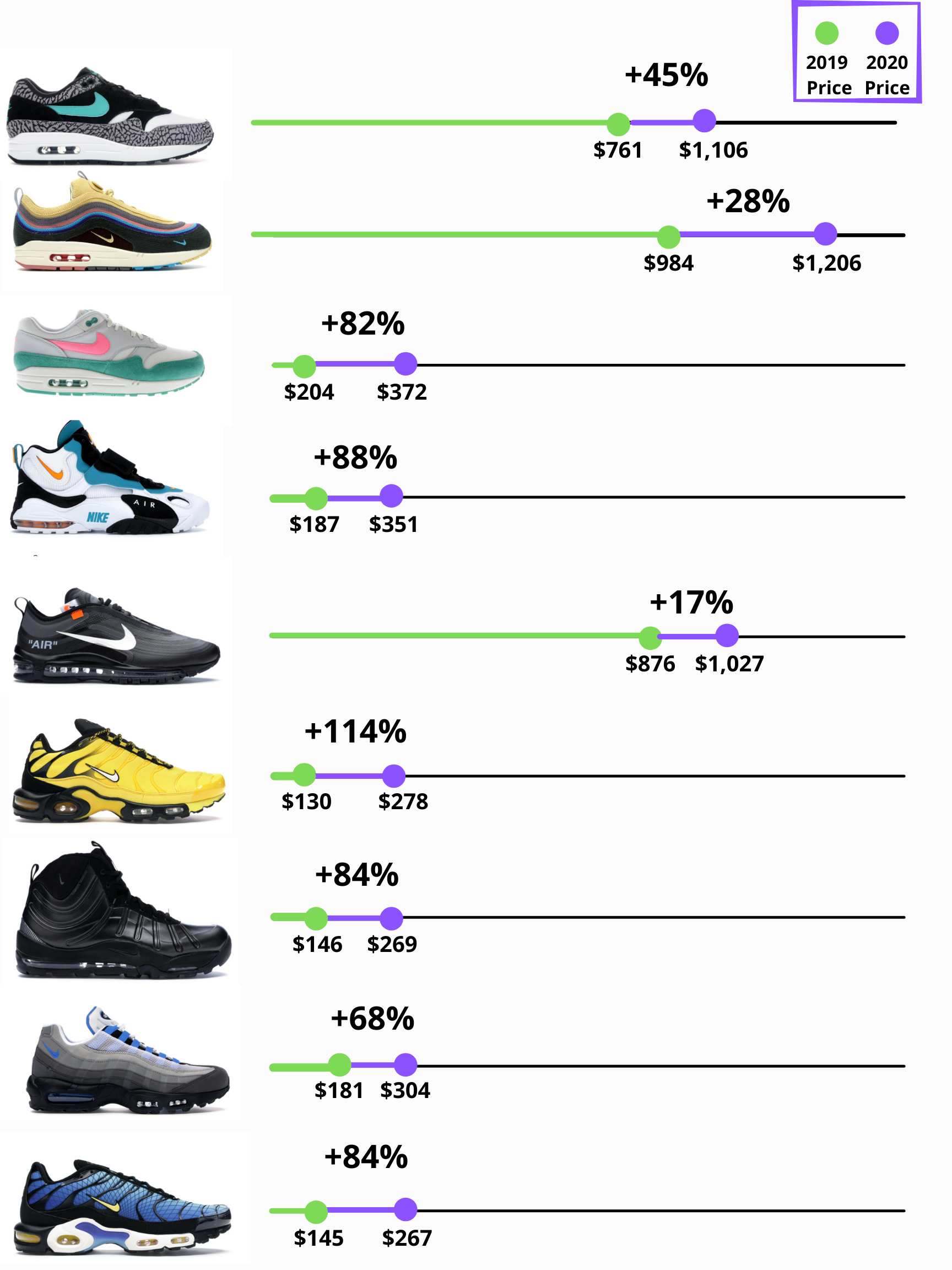 ---
Why the growth?
As demand for a sneaker or in the market as a whole builds, as it notably has over the course of the year, the capped supply of a given sneaker will boost its value.
The scarcity principle guides the sneaker market in the same way that it factors into the price of bitcoin. The rarest sneakers–vintage, limited-edition, or high-profile collaborations–sell at the highest price points. Just as many bitcoiners are known to hodl their coins, many sneaker buyers will hold their goods as deadstock and wait for the price to appreciate. And boy, do they appreciate.
Win BIG! 🚀
To mark Air Max Day, we wanted to make sure you know about StockX's one-day only opportunity to win an amazing prize. Bid $1 between 12:00 PM EST on Thursday, March 25, 2021 and 12:00 PM EST on Friday, March 26, 2021 for an exciting chance to win an exclusive Air Max Day bundle, including four of the most iconic recent Air Max releases.
Get in on the action.
Shop the top sneakers in the graph above.
Nike Air Max 1 Atmos Elephant 2017 - 45%
Nike Air Max 1 97 Sean Wotherspoon NA - 28%
Nike Air Max 1 Watermelon - 82%
Air Max Speed Turf Dan Marino - 88%
Nike Air Max 97 Off White Black - 17%
Nike Air Max Plus Tour Yellow - 114%
Nike Air Max Posite Bakin Boot Triple Black 2017 - 84%
Nike Air Max 95 OG Crystal Blue - 68%
Nike Air Max Plus Greedy - 84%
---
Want $10 in Free Bitcoin? 💰
It's easy! Share your referral code with a friend. When they shop with a Lolli retailer, we will send you both $10 in free bitcoin. You can find your referral code in your Lolli browser extension.
Keep stacking,
The Lolli Team
---
*Bitcoin back rates are subject to change.