---
Celebrate Bitcoin Pizza Day by earning 10% in free bitcoin rewards at Pizza Hut, Domino's, and more with Lolli Card Boosts!
---
May 22, 2023 marks 13 years since Laszlo Hanyecz bought 2 pizzas from Papa John's for a grand total of 10,000 bitcoin – at the time, worth just $40. Today, with bitcoin's price right around $27,000, Laszlo's infamous pizza order is worth roughly $250 million in bitcoin.
Lolli is celebrating Bitcoin Pizza Day by giving you up to 10% back on pizza with Lolli Card Boosts at your favorite stores like Pizza Hut, Domino's, and more.
Just link a card on the app and activate a Card Boost before you buy a pie with your linked card to earn free bitcoin rewards.
Read on to learn more about the iconic bitcoin holiday and how you can celebrate with Lolli today.
---
The History of Bitcoin Pizza Day
In 2010, Laszlo, an early bitcoin developer, posted a call to buy 2 pizzas for 10,000 bitcoins on Bitcointalk Forum, a popular forum for early bitcoiners. At the time, one bitcoin was worth less than a cent.
---
---
In the 13 years since, bitcoin has risen from a niche technology supported by a grassroots community of developers to a mainstream currency and the best-performing asset of the last decade. Bitcoin has been embraced by a growing number of companies, countries, and public figures and its price has skyrocketed and stabilized over time.
Every Bitcoin Pizza Day, the bitcoin community celebrates and reflects on the meteoric rise in bitcoin's value since it was created by Satoshi Nakamoto in 2008.
Here at Lolli, we celebrate by doing what we do best – giving you free bitcoin.
---
Get 10% Back on Pizza with Card Boosts
If Laszlo had earned 10% in free bitcoin back on his pizza order in 2010, he'd have earned roughly 1,000 bitcoin (worth roughly $25 million today)!
Celebrate this Bitcoin Pizza Day by earning free bitcoin rewards with Lolli Card Boosts at top pizza places like Domino's, Pizza Hut, & more. Link a card on the app to unlock in-store rewards at 25,000+ stores!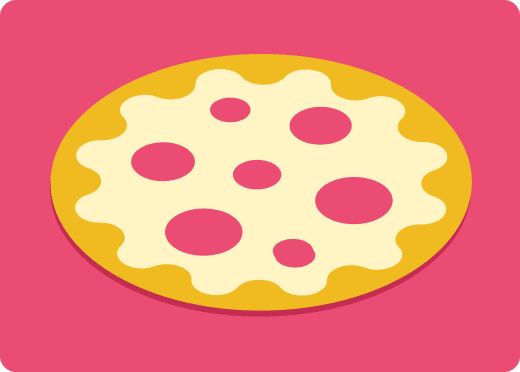 ---
Enter Our Instagram & Twitter Giveaways
We're giving away 5 free pizzas from top pizza places on Lolli like Pizza Hut, Domino's, & more to celebrate the holiday! Follow us on Twitter and Instagram for a chance to win.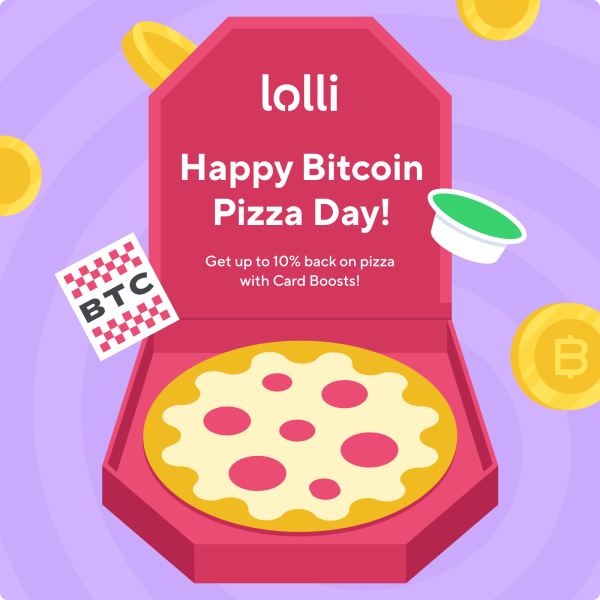 ---
Tune Into Our Video on Bitcoin Pizza Day
How well do you know your pizza trivia?
Follow us on TikTok and YouTube for exclusive pizza trivia videos to celebrate Bitcoin Pizza Day.
---
Get featured on Lolli's Twitter!
Let us know how you're celebrating Bitcoin Pizza Day and tag us at @trylolli for a chance to get featured on our Twitter.