review by @Cryptoidolic21
My First Month Using Lolli
My first month using Lolli was an amazing and refreshing cryptocurrency experience. I've tried many cash back rewards programs before and personally think the process is way too slow. You could spend months shopping and spending thousands of dollars just to finally be able to get a $25 gift card, and by the time you're ready to collect your prize you feel like deleting the app or opting out of the program.

Those other apps also use the U.S Dollar. Bitcoin is a digital currency (the world's first cryptocurrency) that anyone in the world can own.
So why am I talking about Bitcoin?
Lolli is the leading bitcoin rewards company that gives people a unique opportunity in the cash back return games. It offers an array of shops that many will recognize as top brands and stores that we all use everyday. The registration process for an account is pretty painless. After you sign-up  you can use their platform to choose a store you'd like to shop at. Once decided, you can click the "Shop" button and Lolli does their web wizardry to make sure they capture your purchase so that they can be sure you get bitcoin  back. The reward is paid out in bitcoin and you'll clearly be able to see the US dollar amount to keep track of how much you're racking up from all your normal purchases.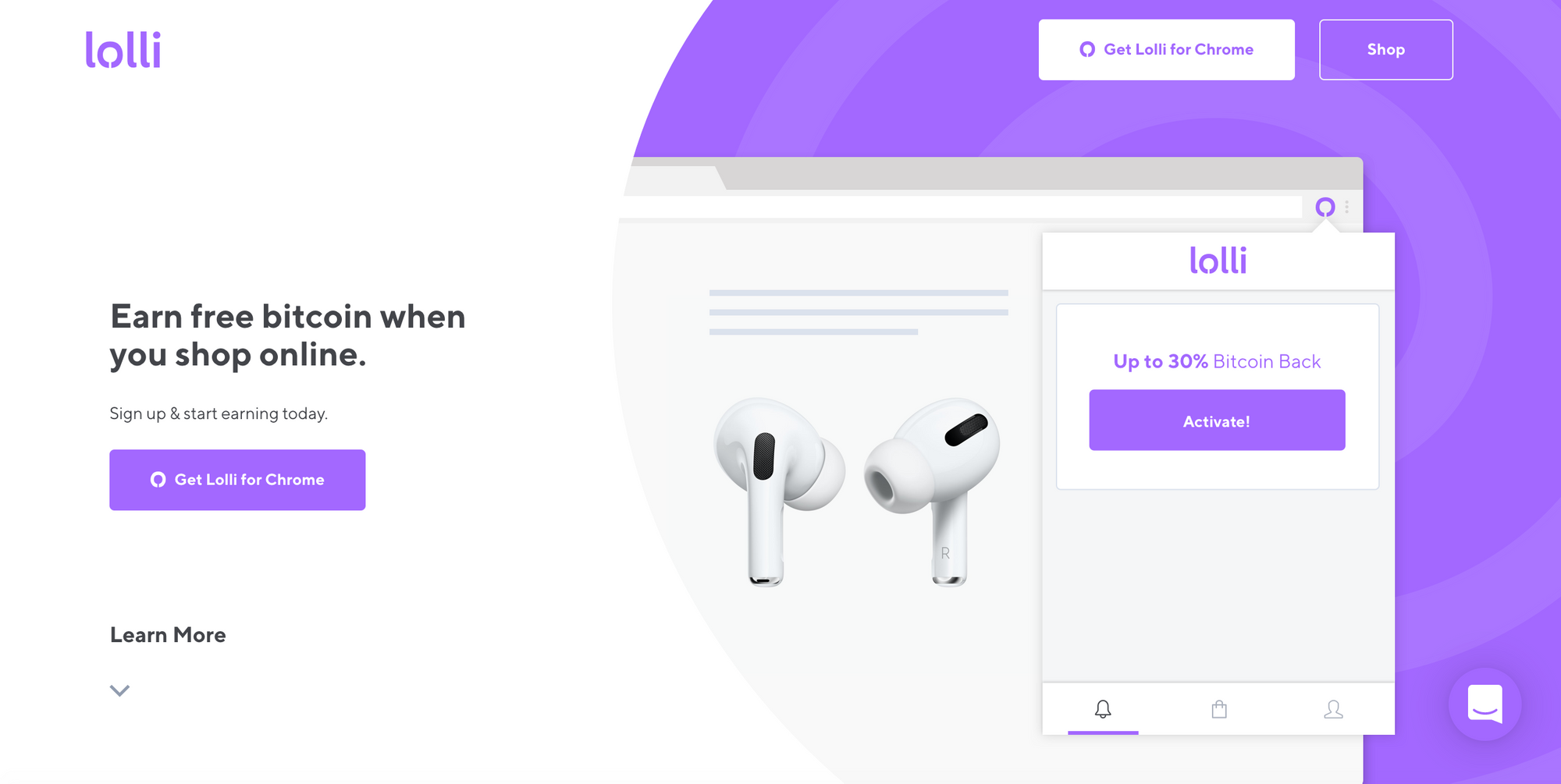 Once you register with Lolli, be sure to spend some time exploring the stores so you can go over all the stores that are relevant for you. They have a lot of stores you may have never heard of but some have some huge cash back returns and may be worth looking into.
My first Lolli purchase was through my phone. I was able to find Groupon and click the 'Shop' button and be directed to my Groupon app where I made my first purchase. I received the credit two weeks later. Some offers give you credit on the same day others don't, it depends on the retailer.
For Valentine's Day, I wanted to get my wife a present and after going through the stores, I found Sephora. At a rate of 4.5% cash back, I ordered my wife's Valentine's day present and got some bitcoin  back. For the rest of my experience, I was able to use Safeway to order my groceries for my family and get back 3.5% cash back from my purchases. For my dog, we typically go to Petco to get her food and supplies and sure enough Petco is on  the list of stores Lolli offers bitcoin back for too at a rate of 3.5%.

Sometimes my wife and I order out to eat and used DoorDash before. However Lolli offers another food delivery service called Postmates which I found just as effective as DoorDash, if not better. So for the past month I've been ordering breakfast on the weekends sometimes, work lunches, and easy dinners. For every Postmates order I'm getting $2.25 worth of Bitcoin. However on your first order with Postmates you receive a nice $18 credit which in my eyes makes me feel like I got treated to lunch. Thanks Lolli and Postmates!

Overall I'm having a great experience. You can also use your mobile web browser and Lolli will capture the shopping you did to give you your cash back. Lolli is working on coming out with an app soon so I'm sure it'll streamline the use of Lolli even more on the mobile phone side. I've made over 1% of a bitcoin with Lolli which is currently worth about $100 in bitcoin for my first month.
In conclusion
I highly recommend Lolli to anyone that is curious about bitcoin and would also like to receive some bitcoin back for normal everyday purchases. This is easily the best cash back program I've ever done. It's even better that they allow you to earn bitcoin in the process. Shopping just got a whole lot more exciting!
---