---
You can now pre-order the Samsung Galaxy Fold5 and get 3% back with Lolli on a revolutionary new smartphone.
---
In a world where technology is constantly evolving, Samsung remains at the forefront of innovation, pushing the boundaries of what's possible in the realm of smartphones.
The latest addition to their groundbreaking Galaxy Fold series, the Samsung Galaxy Fold5, takes the concept of a smartphone to an entirely new level. With its remarkable design, cutting-edge features, and enhanced user experience, the Galaxy Fold5 is set to redefine the smartphone industry.
---
Foldable Brilliance
One of the most compelling reasons to love the Samsung Galaxy Fold5 is its revolutionary foldable design. Building on the success of its predecessors, the Fold5 features an even sleeker form factor, providing users with a larger, uninterrupted 8.2-inch Dynamic AMOLED display when unfolded.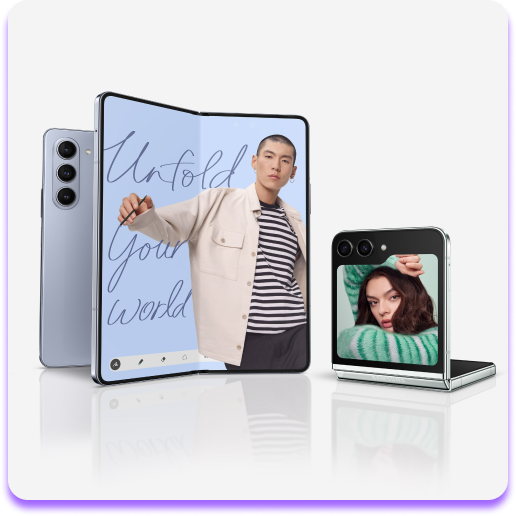 This transformative technology blurs the line between a smartphone and a tablet, offering unparalleled versatility in one device.
Multitasking Redefined
The Fold5's innovative design isn't just about the larger screen; it's about enhancing productivity and multitasking capabilities. The Multi-Active Window feature enables users to effortlessly run multiple apps simultaneously, allowing for seamless multitasking like never before.
Whether you're editing documents, watching videos, or participating in a video call, the Galaxy Fold5 empowers you to do more, all at once.
Premium Build and Craftsmanship
Samsung's commitment to quality and attention to detail shine through in the Galaxy Fold5's premium build and craftsmanship – plus a waterproof design so your phone can go where others can't. The device boasts a durable hinge mechanism that ensures a smooth and reliable folding experience, offering peace of mind that the Fold5 can withstand the rigors of daily use.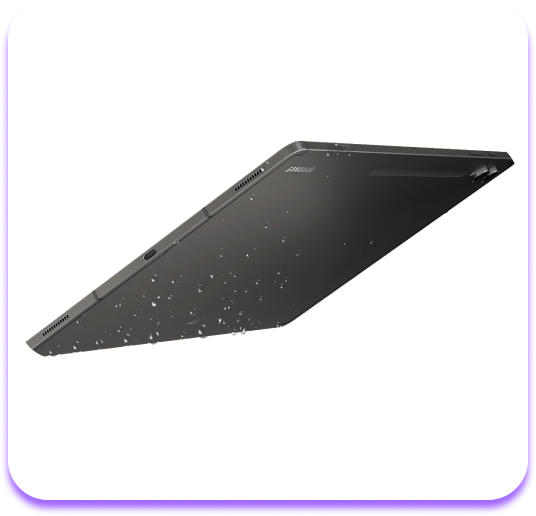 With a range of elegant color options and a slim profile, the Galaxy Fold5 exudes sophistication and style.
---
Cutting-Edge Processor
The Samsung Galaxy Fold5 is equipped with the latest and most powerful processor available, delivering unparalleled performance. Whether you're gaming, streaming, or running intensive applications, the Fold5's cutting-edge processor ensures a seamless and lag-free experience.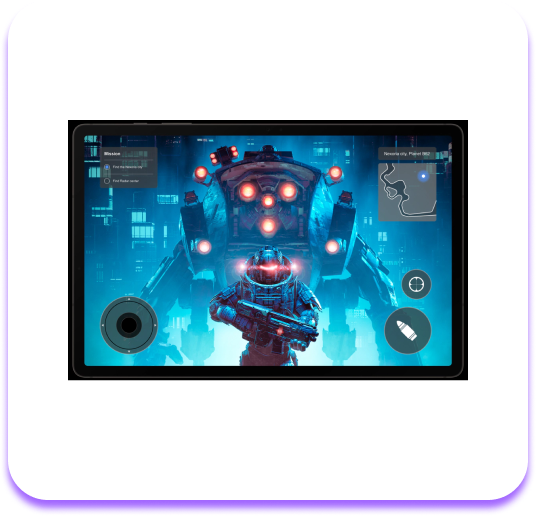 Plus, enjoy intense colors, deep contrasts and supersmooth refresh rates up to 120Hz to bring your gaming experience to life like never before.

Enhanced Camera Capabilities
Samsung has always been at the forefront of mobile photography, and the Galaxy Fold5 takes it a step further. With an array of high-resolution lenses and advanced imaging software, the Fold5 delivers stunning image quality in any lighting condition.
From capturing breathtaking landscapes to taking crisp selfies, the Fold5's camera system is a photography enthusiast's dream come true.
Ample Storage and Battery Life
The Galaxy Fold5 offers generous storage options, ensuring you have enough space to store all your important files, photos, and videos. Moreover, the device features an impressive battery capacity, coupled with intelligent power management, enabling you to stay connected and productive throughout the day.
---
5G Ready
As the world embraces 5G connectivity, the Samsung Galaxy Fold5 is future-ready. With 5G capabilities, the device opens up a world of possibilities, from faster download speeds and smoother streaming to unlocking the potential of augmented reality and virtual reality applications.
Intuitive User Interface
Samsung's One UI, optimized for the Galaxy Fold5, ensures an intuitive and user-friendly experience.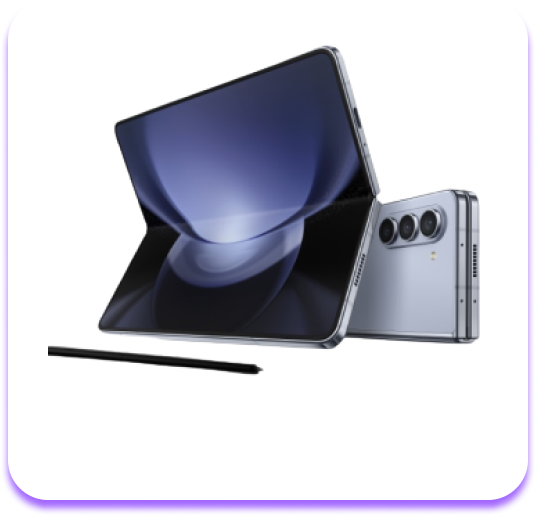 The interface seamlessly adapts as you transition between folded and unfolded modes, making navigation effortless and intuitive.
App Continuity
The Galaxy Fold5's App Continuity feature is a game-changer, allowing users to transition from the cover display to the main screen without interruption.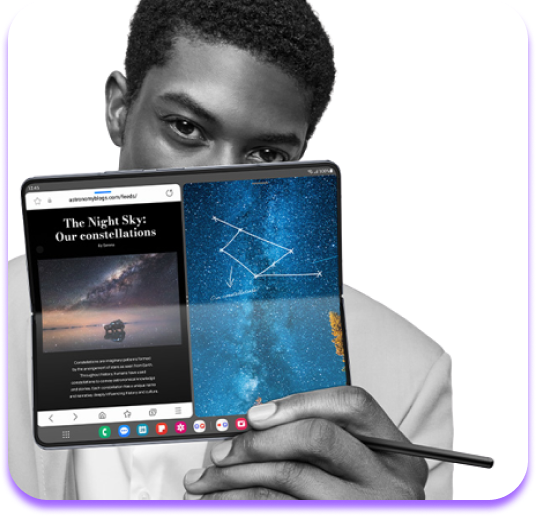 The seamless continuity between displays ensures a smooth and uninterrupted user experience, making the Fold5 a true multitasking marvel.
---
With the Samsung Galaxy Fold5, Samsung once again proves its commitment to innovation and excellence!
Pre-order the Galaxy Fold5 to earn on the revolutionary new device today.