---
Earn free bitcoin on over 1 billion eBay listings when you shop with Lolli.
---
Lolli, the leading bitcoin rewards application for online purchases, is thrilled to announce our newest partner, eBay.
Lolli users can now earn 1% back in bitcoin when they shop from eBay's marketplace of over 1.6 billion products and services.
---
CEO and Co-founder of Lolli, Alex Adelman said:
"We are thrilled to partner with eBay, the largest online auction marketplace, and give over 127 million eBay users the opportunity to earn bitcoin back on their orders. eBay made online shopping more accessible to the world for the past 25 years. Today, we are proud to partner and make bitcoin more accessible to those users and continue our mission of furthering bitcoin education and adoption."
---
This news comes right before the largest holidays shopping days of the year, Black Friday and Cyber Monday.
CTO & Co-founder of Lolli, Matt Senter said:
"We're proud to launch with eBay just in time for Black Friday and Cyber Monday as a treat to our loyal Lolli shoppers. We've been working tirelessly to make this integration possible in time for people to earn bitcoin on all their holiday shopping this year. This is the way."
Lolli.com is offering our highest bitcoin back rates yet this holiday shopping season and expects to see its highest growth and best earnings month ever this November.
---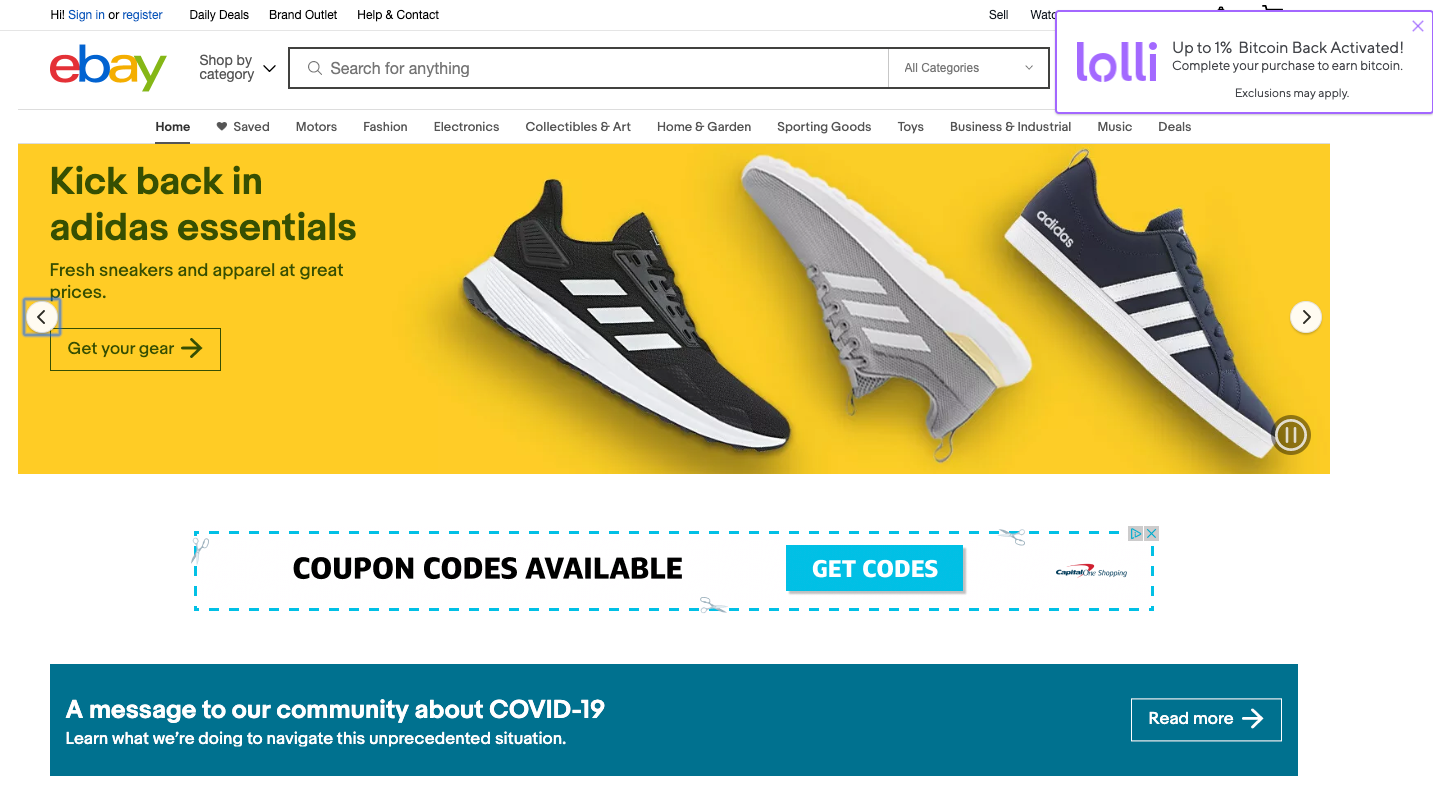 ---
Want $10 in Bitcoin? 💰
Share your referral code with a friend. When they shop with a Lolli retailer, we will send you both $10 in free bitcoin. You can find your referral code in your Lolli browser extension.
---
Keep stacking,
Alex, Matt, & The Lolli Team
About Lolli: Lolli is the first bitcoin rewards application that allows people to earn and own bitcoin when they shop online. Lolli has partnered with 1,000+ top brands and merchants including Priceline, Groupon, and Macy's. The browser is currently available on Chrome, Firefox, and Microsoft Edge. For more information, visit Loll.com
*Exclusions apply. Bitcoin back rates are subject to change.Only winning bids will be rewarded, user must activate Lolli prior to placing each bid, the maximum reward earned per order is $50.