---
The mobile app will allow users to earn free bitcoin from over 1,000+ online retailers.
---
New York, NY — June 17, 2021 — Lolli, the leading bitcoin rewards company, has today announced the launch of its mobile app, available on iOS devices, which will now allow users to shop and earn bitcoin from the palm of their hands from over 1,000 top merchants including Kroger, Microsoft, Booking.com, and Ulta when they download the Lolli app from the App Store.

The Lolli bitcoin rewards app offers even greater reward accessibility and includes premium reward rates, a growing merchant network, referral bonuses, the option to view rewards in bitcoin or satoshis, Daily Stacks, and faster reward confirmation times.
---
Matt Senter, CTO and Co-founder said:
We are very proud to release the full mobile app to our shoppers. We believe everyone should be able to easily earn bitcoin on every purchase on every device, and mobile shopping is just another step toward achieving that goal. Our team has been working diligently to ensure our shoppers enjoy the smoothest, most intuitive, and most secure experience possible via mobile. We look forward to continuing to provide our shoppers with features and support to optimize their experience and ability to earn bitcoin back on every purchase."
---
Since launching in 2018, Lolli has made bitcoin accessible to everyday shoppers as a browser extension. Lolli currently offers up to 30% and an average of 7% back in bitcoin rewards, and has already given over $3.5M in merchant-funded bitcoin rewards to its users.
---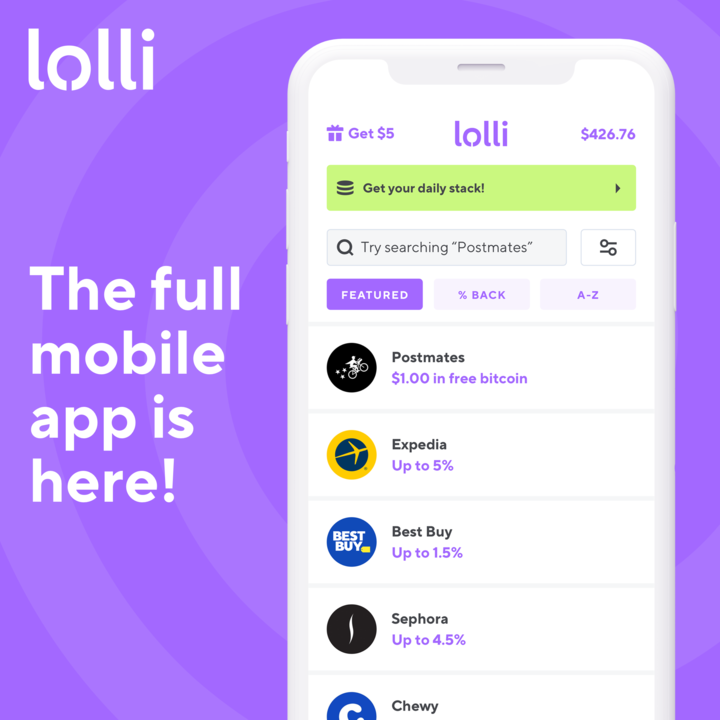 ---
Alex Adelman, CEO and Co-founder said:
We've created the easiest way for people to own bitcoin with our web extension, and today we are excited to share that we have made it even easier. Users can now shop and earn through a seamless experience on mobile, furthering our mission of making bitcoin more accessible to all."
---
In addition to the full shopping experience, the Lolli app will also introduce "Daily Stacks", allowing users to win up to $1 million satoshis (fractions of a bitcoin) every day by tapping on an animated loot box. The app also includes a bitcoin price tracking widget for the home screen and Apple Watch.
In March, Lolli announced a $5.3M Pre-Series A round led by Seven Seven Six, the venture capital fund headed by Alexis Ohanian, and a star-studded cast of investors including Serena Williams' Serena Ventures, multimedia talent management company Night Media, and a roster of prominent YouTube creators. Lolli will continue to strengthen its web extension and mobile shopping experience for a growing user base while looking towards international expansion.

###
---
Co-founders Alex Adelman and Matt Senter are available for interviews.

About Lolli Inc:
Lolli is the first bitcoin rewards application that allows people to earn and own bitcoin when they shop online. Lolli has partnered with 1,000+ top brands and merchants including Priceline, Sephora, and Macy's. Lolli was created with the goal of making it easy to earn, own, and share bitcoin with as many people as possible. The company believes in bitcoin as a global alternative currency and universal store of value and wants to share it with the world. Lolli is available on Chrome, Firefox, Edge and the App Store for iOS. To learn more, please visit lolli.com.

Media Contact: Aubrey Strobel
Email: aubrey@lolli.com
---