The Lolli team and I are excited to share that we just raised an oversubscribed $2.25M seed round from some incredible investors, including Version One, Bain Capital Ventures, Forerunner Ventures, Digital Currency Group, 3K VC, FJ Labs, Quaker Health Ventures, Rugged Ventures, SV Angel, & some incredible strategic angels.
We are excited to use the new funds to further build out the product (please keep all your feature requests coming!), onboard more top merchants, grow the team, and share Lolli with more people!
What is Lolli?
Lolli (www.lolli.com) is a rewards application that gives users free bitcoin when they shop online at 500+ top merchants. Lolli has made it simple for people to earn bitcoin when they shop for fashion, food, lifestyle, and travel, giving both bitcoin maximalists and those new to crypto, an opportunity to easily earn bitcoin. Lolli has created a real use case for bitcoin that thousands of people are actively using.

Since our launch with 500+ top merchants 2 months ago, Lolli has partnered with even more top brands like Priceline, Booking.com, Hilton, Marriott, Brandless, Ulta, Harry's, Casper, Saks, Lord & Taylor, GoDaddy, CVS, Walgreens, and VRBO to reward users with free bitcoin when they shop online. Our merchants are already seeing a massive increase in conversion & sales.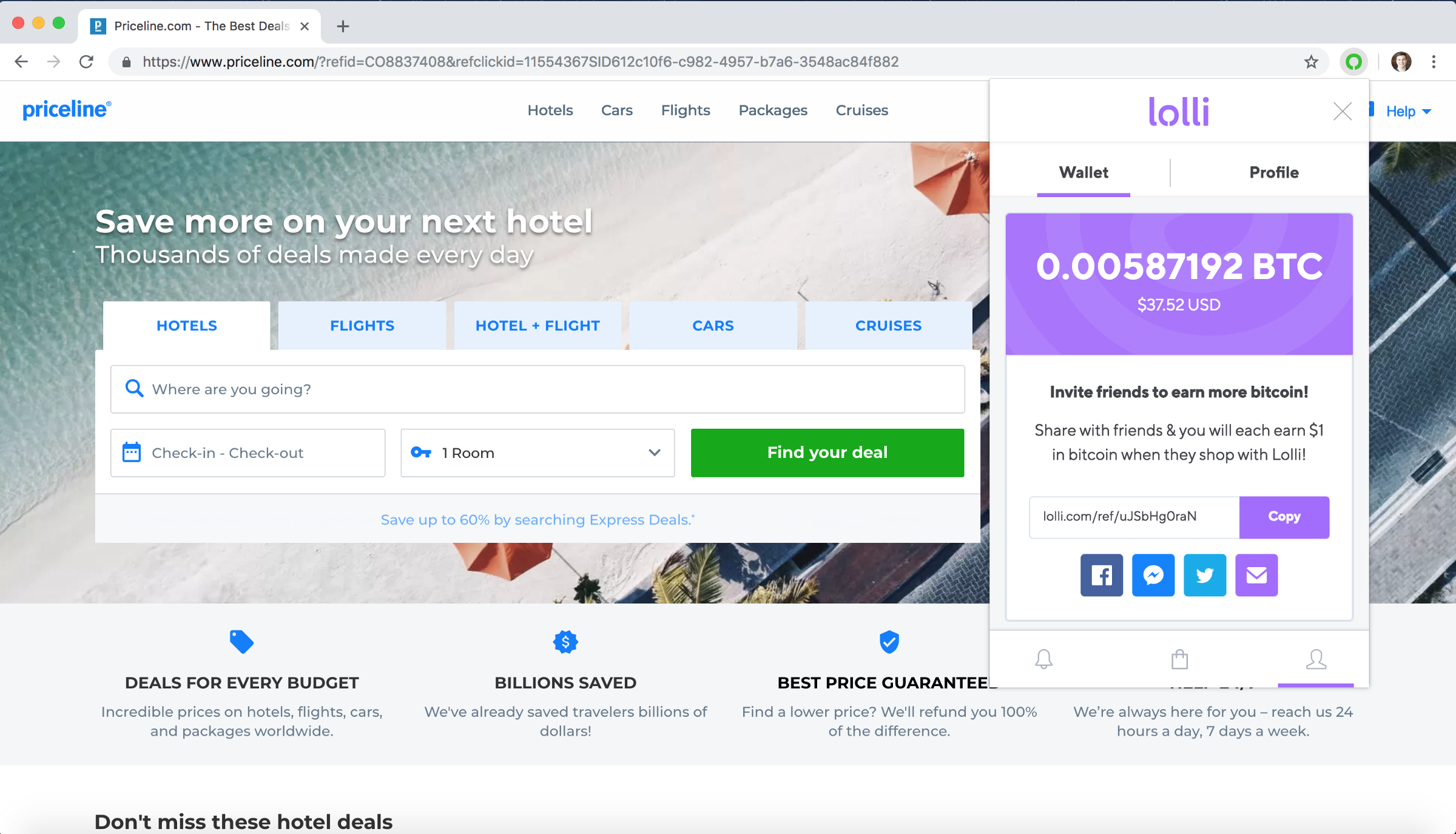 Want to get involved?
The Lolli community has been critical to our success so far and we couldn't be more thankful for all your help. We are always looking for more people to support our mission of making bitcoin accessible to all. We don't care how much you know about crypto — you could be the most ardent bitcoin maximalist, or you could be a mom or dad looking to save on holiday shopping — don't hesitate to reach out and get involved…
Download Lolli: www.lolli.com
Follow us on social media: Join our FB community for exclusive deals here. Follow us on Twitter for company updates & more ways to earn bitcoin: @trylolli
Work @ Lolli: Open positions: https://angel.co/lolli/jobs. If you're interested in joining the team but don't see a role that fits your skill set, please apply here.
Partner with Lolli: If you're a merchant looking to partner, sign-up here.
If you are in college and want to be a Lolli ambassador or intern, sign-up here.
If you're interested in covering Lolli for a story, please feel to reach out at press@lolli.com.
Thank you for your support. We look forward to continuing to make bitcoin accessible to all!
Love,
Alex, Matt, & the Lolli team 🍭💜