Your Tax Documents are Now Live and Ready For Tax Season

If you need assistance regarding your bitcoin earnings and transfers, you can now access this information with Lolli's new tax report download. This tutorial will explain how to properly export your files.

To learn more about how the IRS taxes bitcoin rewards, Lolli sat down with Shehan Chandrasekera, CPA and Head of Tax Strategy at CoinTracker.io to gather his insight on tax season so that it's simple and easy for you to file this year. Read the blog post here.
Lolli's bitcoin rewards work like a rebate, or a cash back from a credit card. Generally, rebates are not taxable because they are an adjustment to the purchase price paid for the item and not additional income. In tax law terms, this is not an accession to wealth and should not be included in your gross income. This is good news for Lolli users! Although there are no taxes to be paid when you receive bitcoin rewards from Lolli, it is critically important to keep track of your bitcoin reward history because you will be taxed if you ever trade, spend or convert them into another currency (e.g. USD, ETH, etc.).
To help you track your bitcoin rebates, we put together a simple tax guide below.
---
Access your report in three simple steps:

1️⃣ Visit https://www.lolli.com/account. At the bottom of the page, you will find a button to request your tax export.
2️⃣ Lolli will send you an email notification once the report is ready for download. Click the link provided in your email.

3️⃣ Your report will automatically download! If you ever need it again, you can always return to https://www.lolli.com/account and click the Download button at the bottom.

It's that easy! ✔️
Your report will contain all rewards, whether they are rebates or gifts/bonuses, and any withdrawals to a USD bank account.
---
Understanding Your Report

"Date"
The date of the event. Generally you will only need to look at the events for the previous tax year. For instance, in 2020, you would need all 2019 events. Box 1b or 1c of Form 8949.

"Acquired Amount" and "Acquired Currency"
The bitcoin value of the reward you received.

"Cost Basis" and "Cost Basis Currency"
The fiat (e.g. USD, CAD, EUR) value of the bitcoin reward you received at the time it was issued. Box 1e of Form 8949.

"Disposed Amount" and "Disposed Currency"
The value you withdrew to a USD bank account. We do not provide line items for transfers to other bitcoin addresses as that does not change your bitcoin holdings. Please note: you are responsible for reporting any activity that occurs outside of Lolli.

"Disposed Value" and "Disposed Value Currency"
The USD value of the bitcoin withdrawal you made to a USD bank account. Box 1d of Form 8949.

"Fee" and "Fee Currency"
The USD value of the fee paid to withdraw to a USD bank account.

"Type"
REBATE - These are rewards for your purchases, generally considered non-taxable.
GIFT - These are bonuses or prizes issued that are not associated with a purchase and may be taxable.
WITHDRAWAL - Taxable conversions from BTC to USD.


---
Need help with your bitcoin taxes?
Lolli cannot and does not provide tax advice! Here are some tax service providers and special discounts for Lolli users:
CoinTracker - 10% off new CoinTracker customers
Use this link: https://www.cointracker.io/a/lolli
Special Note: CoinTracker has created an importer for your Lolli tax report. You can find more info at https://www.cointracker.io/exchanges/lolli, and once you have created your account and logged in, you can upload your Lolli CSV file at https://www.cointracker.io/add_wallet?t=LOLLI&csv=true, where you'll see this:


ZenLedger - 10% off new ZenLedger customers when you use code LOLLI
Sign up with this link: http://affiliatetracking.zenledger.io/SF1F

ZenLedger, the fastest and friendliest free tax tool for cryptocurrency investors and accountants, supports your Lolli tax report.
Sign up for an account with ZenLedger.
Log in to your account and select the 'Wallets and Import' tab. From there, select Lolli listed in the 'Exchanges' section.
Follow the step-by-step instructions to download your Lolli tax report.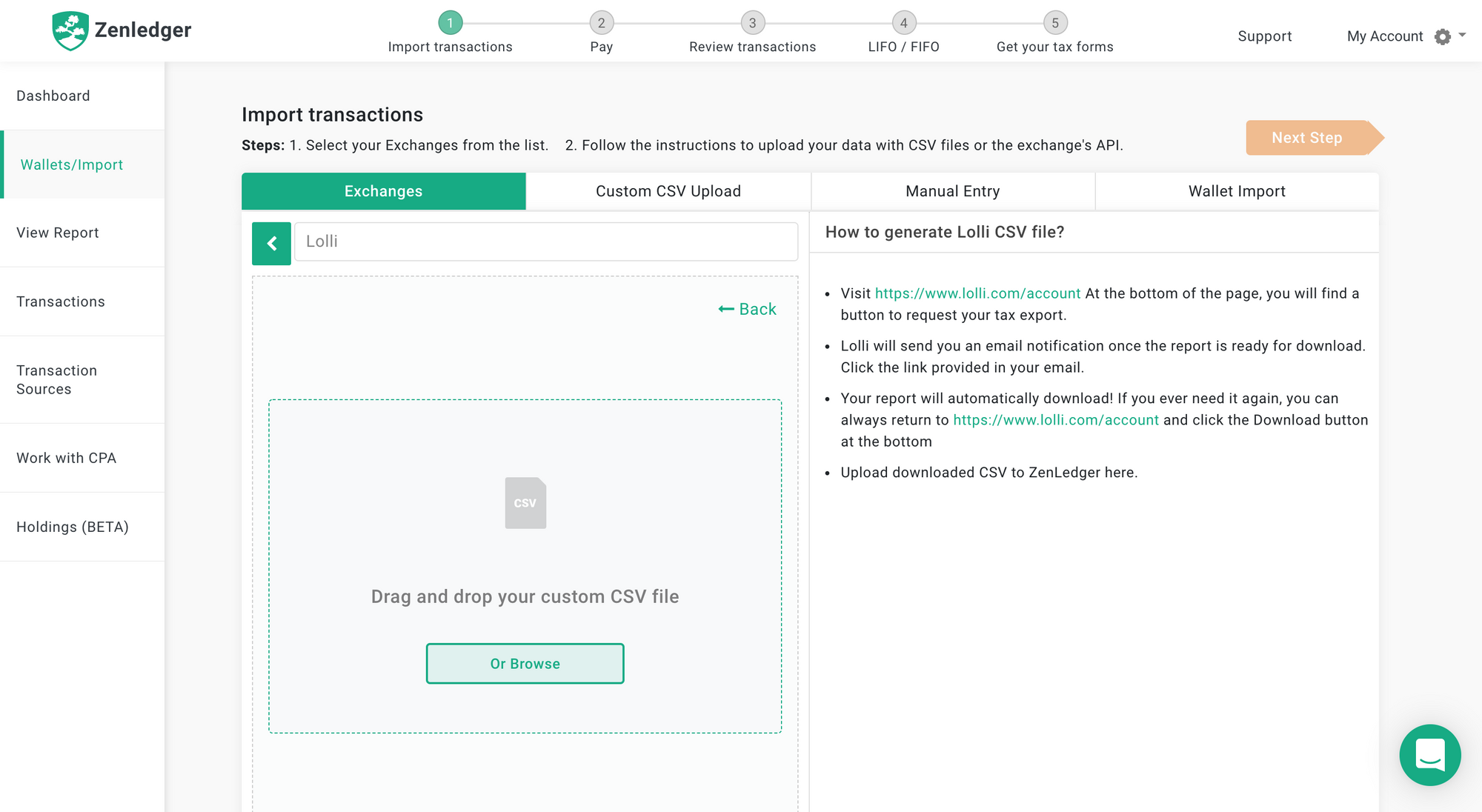 Happy Tax Season,
Matt & The Lolli Team
---
*Disclosure: This is not tax advice. Lolli cannot and does not provide tax advice. If you have questions regarding filing your taxes, please contact a registered CPA.