---
The best option for most people to get into bitcoin is Lolli.
You've probably heard the saying, "time is money" before. There are many ways to get bitcoin out there, but most of them require a lot of your time, effort, and money.
You'd probably rather spend time on other things, like relaxing, working on a hobby, or spending time with friends.
Lolli allows you to earn bitcoin for free by rewarding you when you shop from your favorite merchants, just as you normally would.
We wrote this blog post to show you how to easily start earning bitcoin with Lolli. Check it out...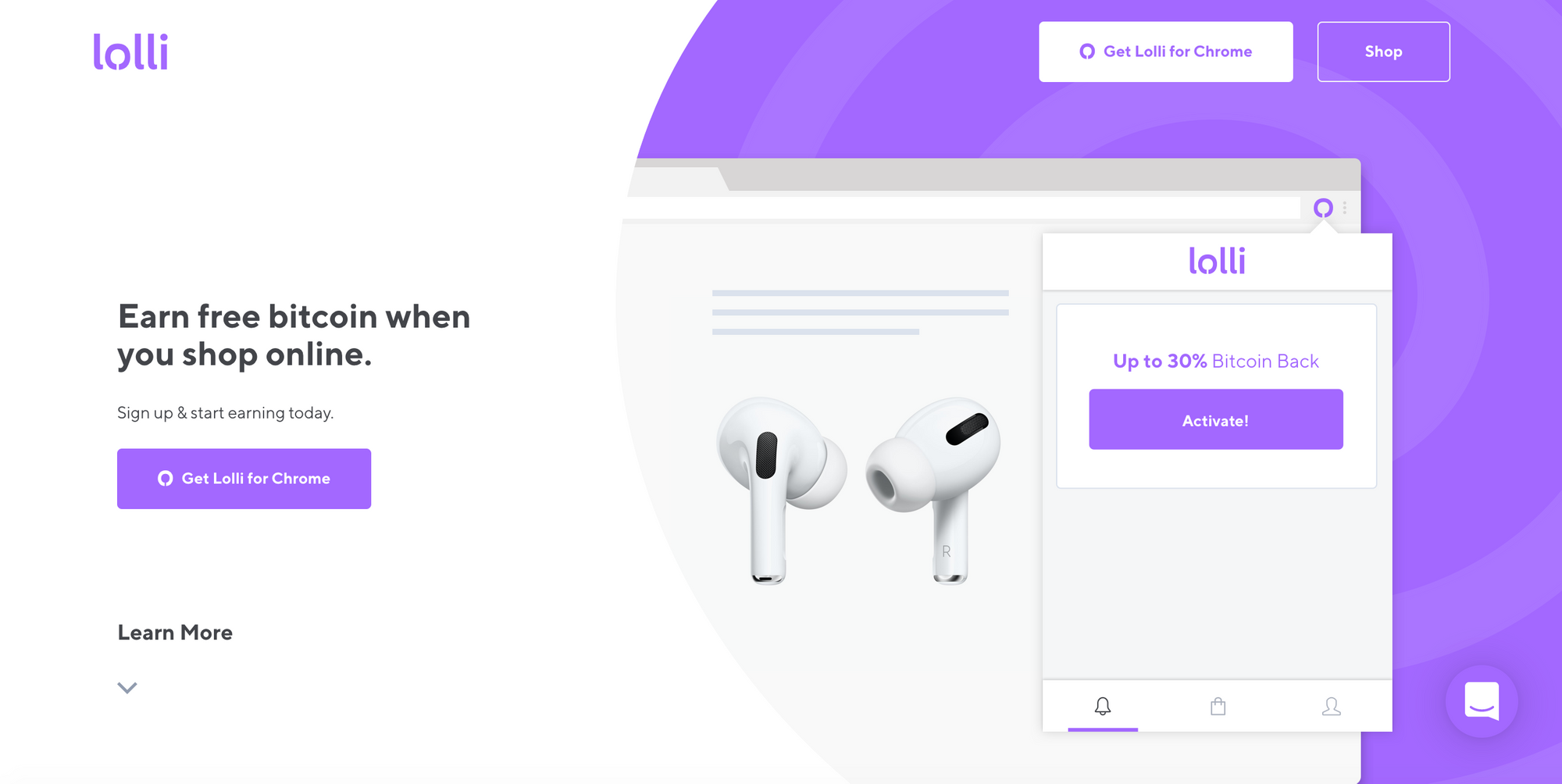 ---
1. Download the Lolli extension. 💻
Getting set up with Lolli is incredibly easy. You can download the extension for Chrome, Firefox, or Edge by clicking the link on the Lolli homepage. Then, on the extension store, click "Download" to simply install the extension. Done!

2. Create an account.
Create a Lolli account. If you use your Facebook account, you can do it in just a couple of clicks. Otherwise, just use your email and be sure to save your password. You probably know the drill by now - enter your email address, create a password, and then click the link in the verification email.

3. Familiarize yourself with Lolli's partners. 🤝
The trick to maximizing your rewards is to figure out how to do as much of your shopping at Lolli's partners as possible. You probably already do some shopping at some of them — you can find a complete list of  1,000+ stores here.
To get the most free bitcoin possible, try to rearrange your schedule to do shopping at Lolli partners. You can find just about everything you need, from groceries, clothes and shoes, to flights and hotels.

4. Learn to use the Lolli browser extension.
Lolli's app should be pretty intuitive, even if you're teaching your grandma to use it. Inside the extension, you'll find your wallet balance, a list of stores where you can use Lolli, and view your shopping history. You will also receive notifications through the extension when you visit a website where you can use Lolli.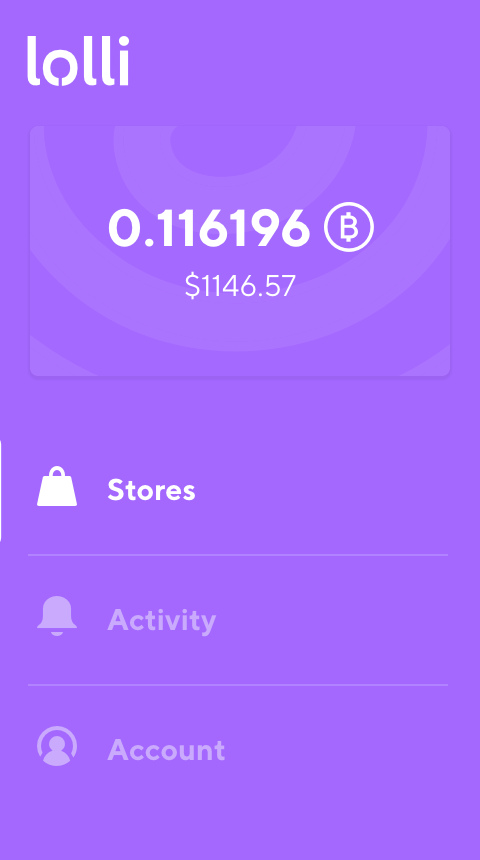 ---
5. Start Shopping 🛍️
The Lolli browser extension will display a small pop-up when you visit most partner stores; however, to find a full list of participating brands, check the stores page. Click on the link in this pop-up to initiate your shopping session. This lets the website know that you have been referred by Lolli. When you check out, your purchase will automatically be credited to your Lolli account.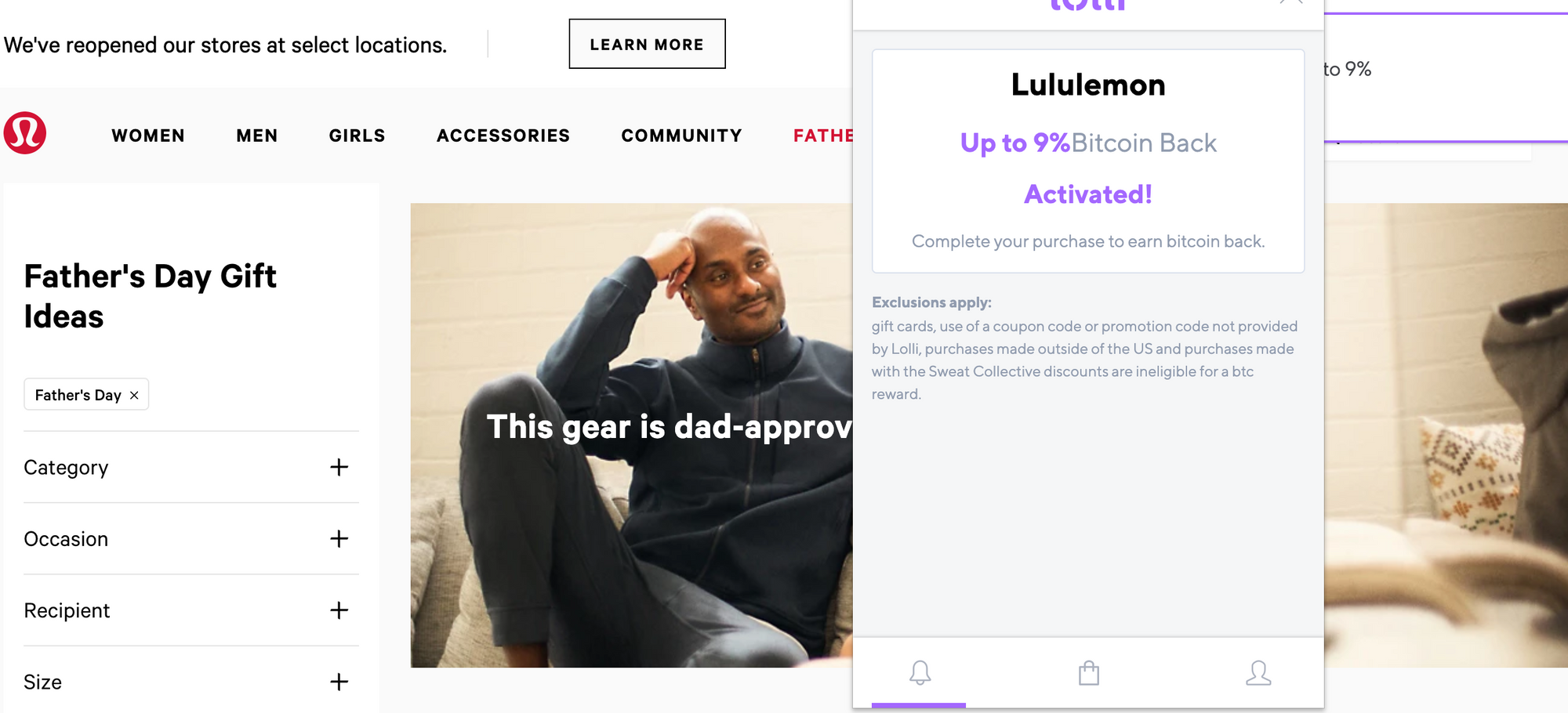 ---
Bonus Tip 🌟
You can earn an extra $10 worth of bitcoin by referring friends. You can find your referral code by just clicking on the Lolli extension button at the top of your browser. Copy it and send it to your friends, and when they start using Lolli your reward will be credited to your account.

6. Collect Your Earnings
After you make a purchase, your funds will not be available immediately. Merchants pay us  when the returns period has passed, then we pay you, sending bitcoin to your Lolli wallet. To find out exactly how long this will take, you can check the return policy of the store where you made your purchase.
When you are ready to withdraw your funds, go to your account overview on the Lolli website. Here you can see your balance and make a withdrawal, either to another bitcoin address or a US bank account.
It's a very good idea to hold onto your bitcoin. Most people currently use bitcoin like gold — as a store of wealth. As more and more people use it for this purpose, the value goes up, since there is a limited amount of bitcoin. And this in turn increases its value, which makes more people want to use it as a store of value. That's what we call a "virtuous cycle." And now you can be a part of it just by shopping!
Since bitcoin is likely to be so valuable one day, you will want to make sure you keep it safe. To do this, you will need to learn a little about wallets.

Bitcoin Wallets 🔐
Your bitcoin is secure in your Lolli wallet, but there are options that offer higher security for long term storage. Alternately, if you want to buy things with your bitcoin, you could download a mobile wallet which could be more convenient for normal purchases. One of the advantages of mobile wallets is that a lot of bitcoin merchants use QR codes which you can scan to send a payment. The Lolli wallet doesn't currently have this functionality.
The safer options for long term storage, however, are paper wallets or hardware wallets. Basically, to access bitcoin you need a private key. You can keep this password on a piece of paper or in a secured chip that usually looks like a USB flash drive. This way, there is no way that hackers can access your private key.
For the highest level of security, you will want a multi-signature wallet. This way, you can secure your bitcoin with multiple passwords, so even if your rebellious teenage daughter tries to steal your bitcoin (or whatever) she hopefully won't know where ALL of the keys are. The additional copies can be used as backups to recover the funds in case you lose one keyset.

Welcome to Bitcoin! 👋
So now you know all about the fastest, easiest way to earn bitcoin for free! Remember next time you buy something to ask yourself, "Could I be buying this with Lolli?" How much do you spend each month on shopping? $100? $500? $1,000? You could be getting up to 30% of that back in bitcoin.

Imagine you spend $500 dollars on shopping per month. If you did all of that with Lolli and got an average of 5% back, you'd be making $25 worth of bitcoin a month. If you do that every month, we're talking about $300 dollars a year. And if bitcoin continues to increase in value like it has in the past few years, that $300 will turn into thousands if you hang on to it. Happy shopping!
---