---
For the music aficionado in your life, finding the perfect gift is a harmonious blend of passion and creativity.
---
Look no further than Lolli, the ultimate shopping destination for earning rewards on gifts.
Whether they're into playing instruments, reading about their favorite artists, or simply reveling in the joy of vinyl, this curated gift guide has something for every music lover.
---
It's a gift that will inspire endless musical exploration.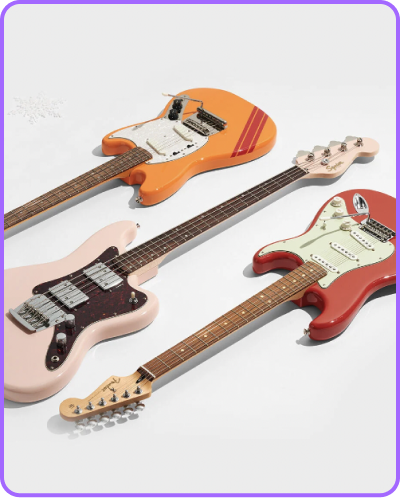 Dive into the world of iconic sound with the Fender Player Stratocaster. Known for its versatile tones and sleek design, this electric guitar is a dream come true for any aspiring or seasoned musician.
---
Books-A-Million offers a wide selection of music-related literature, making it the perfect destination for those who want to delve into the stories behind the melodies.
Immerse the music lover in a compelling narrative with "Born to Run," Bruce Springsteen's autobiography.
---
It's a statement piece for any music lover's space.
Elevate their vinyl experience with the Urban Outfitters x Crosley Record Player. This exclusive collaboration combines style and function, allowing them to enjoy their favorite records with a modern twist.
---
Known for their exceptional sound quality and noise-canceling capabilities, these headphones are perfect for enjoying music on the go or for a private listening experience at home.
Immerse them in the music with Bose QuietComfort 35 II Wireless Headphones.
---
Whether they're working out or just on the move, these earphones deliver powerful, clear sound with a comfortable and secure fit.
For the active music lover, the Beats by Dre Powerbeats Pro offer a truly wireless and high-performance audio experience.
---
This eco-friendly and easy-to-assemble shelf is a functional and aesthetic addition to any music lover's space.
Help them organize their growing vinyl collection with a stylish Vinyl Record Storage Shelf from Lowe's.
---
With its folding design, it's the perfect companion for those who want to take their music with them wherever they go. Ideal for both beginners and experienced players, this portable piano opens up a world of musical possibilities.
For the musician on the move, the Carry-On 88-Key Folding Piano and MIDI Controller from Guitar Center is a game-changer. Compact and versatile, it allows them to practice, compose, and perform anywhere.
---
Bring the stage to their living room with the Marshall Stanmore II Bluetooth Speaker. Known for its iconic design and powerful sound, this speaker delivers a concert-like experience.
Whether they're hosting a party or enjoying a solo jam session, the Stanmore II is a stylish addition to their audio setup.
---
Set the ambiance with the Maison Margiela Replica Jazz Club Candle from Sephora.
Capturing the nostalgic scent of a cozy jazz club, this candle creates a warm and inviting atmosphere for their music sanctuary. With notes of tobacco leaf, vanilla, and tonka bean, it's the perfect complement to their musical journey.
---
Create unforgettable memories with the gift of live music.
StubHub offers a wide range of concert tickets, allowing the music lover to experience their favorite artists and bands live in concert. Choose an upcoming event that aligns with their musical tastes for an unparalleled experience.
---
This eye-catching piece adds a touch of personality to any room, creating a warm and inviting atmosphere for creative expression.
Illuminate their music space with the vibrant glow of a personalized Live Music Neon Sign from Temu.
---
This semi-modular synthesizer is a creative powerhouse, allowing musicians to explore a vast sonic landscape and create unique, expressive sounds.
Delve into the world of analog synthesis with the Moog Grandmother.
---
With these musical treasures from Lolli, hit all the right notes and bring a symphony of joy to the music lovers in your life. From instruments to immersive listening experiences, each gift on this list is sure to strike a chord with their passion for music. Happy gifting!