We're Turning Two — Come Celebrate With Our Team! 🎉
---
We're turning two! The Lolli team is excited to celebrate our 2nd birthday. In just two short years, we've given away a ton of free bitcoin to thousands of people, many of whom never owned any bitcoin before.
We're hosting a Virtual Birthday Party to celebrate our second anniversary and success as a company — we'll talk about:
exciting wins
product updates
major partnership announcements
and yes - we're giving away FREE BITCOIN! ✨
We hope to see you Thursday, August 20th, at 5 pm PT | 8 pm ET. Full details below.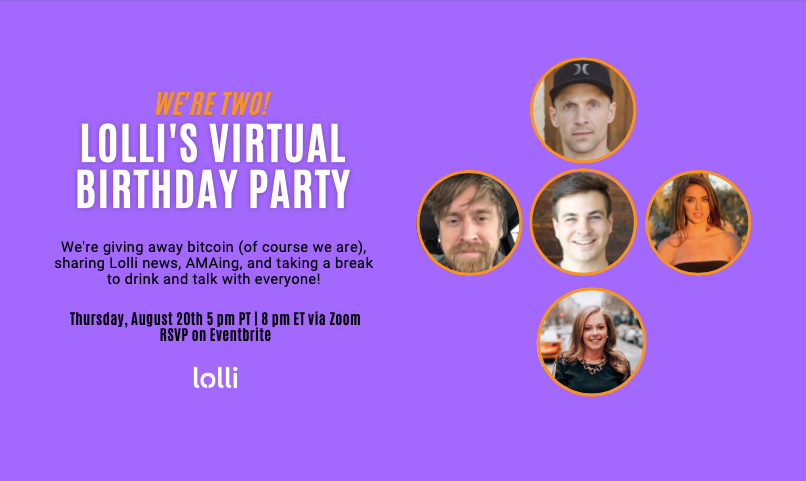 ---
Recap: Year Two! 🚀

We're Growing - Business Updates! 🏢
Did you know: Lolli is headquartered in both New York City and Durham, NC.
We are proud to announce we've surpassed 1,000+ partnered merchants!
Closed of an oversubscribed $3 million Seed II funding round led by Founders Fund. Other new investors include beauty entrepreneur Michelle Phan, Sound Ventures, Craft Ventures, Company Ventures, Adam Leber, and Chapter One Ventures. Repeat investors include FJ Labs, Version One, Bain Capital Ventures, Digital Currency Group, Pir Granoff, and Brian Sugar.
---
We announced a ton of new partnerships 🔥
Did you know: Lolli is partnered with top brands, including 20+ Fortune 500 companies. Some of our newest partnerships include:
---
We made notable product updates 💻
Did you know: We're always updating Lolli. You may have noticed an improved experience with our product, here's what we improved:
---
Lolli in the news 🗞
In the past year, we've introduced bitcoin to hundreds of thousands of people for the first time. Here are some of our favorite moments:
Fox Business – CEO Alex Adelman joined the Claman Countdown and discussed bitcoin rewards and holiday shopping.
Yahoo Finance – Alex went on YFi to talk about a 20x increase in shopping during Cyber Monday.
CNN – Alex talked about new merchants joining the bitcoin space on CNN's First Move with Julia Chatterley!
Michelle Phan – YouTube beauty entrepreneur, EM Cosmetics founder, and Lolli investor, Michelle went on Cheddar TV to talk about bitcoin adoption and Lolli!
---
What's next for Lolli? 🍭
Are you ready for this?
Launching our highly-anticipated mobile app. Want to be first to hear about the launch? Follow us on Twitter, Instagram, and YouTube. 📱
Implementing several product features that will give you more power over your money and identity. ✅
Announcing more partnerships and opportunities to stack sats. 🤝
Going global — we're expanding internationally! ✈️
---
From the bottom of our hearts, we want to thank you for stacking sats with us. We are extremely grateful for our amazing community and cannot wait to continue to bring more bitcoin to even more people in the future.
💜,
Alex, Matt, & The Lolli Team

---