---
The world's most trusted ticket marketplace will offer free bitcoin on ticket purchases.
---
New York, NY — August 25, 2021 — Lolli, the leading bitcoin rewards company, has today announced a partnership with StubHub, the world's most trusted ticket marketplace. This partnership will give users the ability to earn up to 6% bitcoin back on tickets for sporting events, theatre, concerts, and more.
Founded in 2000, Stubhub's mission is to bring the joy of live events to fans globally, listing millions of live sports, music, and theatre events each month. StubHub will join 1,000+ other retailers offering bitcoin rewards with Lolli, including Microsoft, Sephora, Kroger, Best Buy, and more.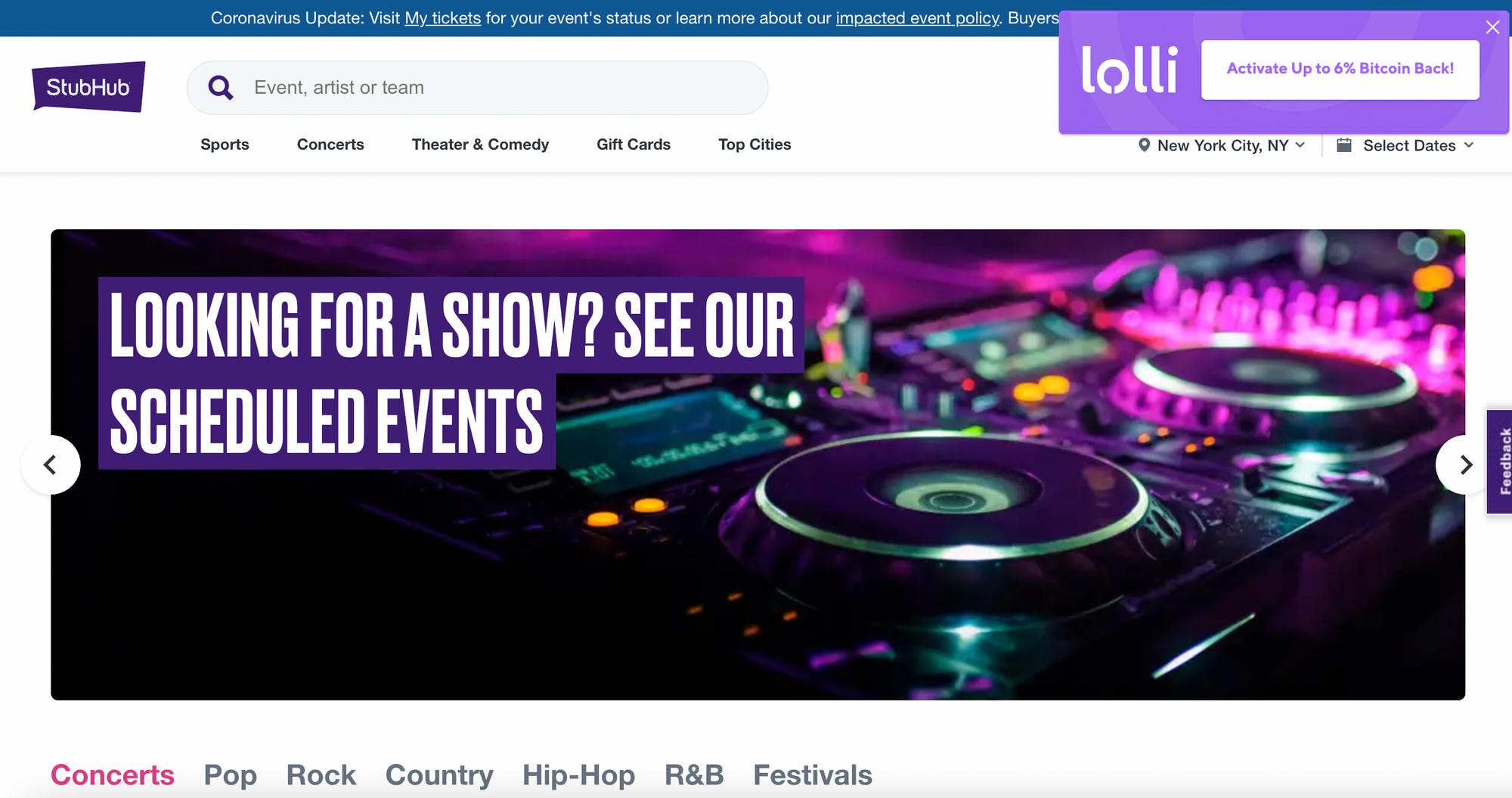 Alex Adelman, CEO and Co-founder of Lolli said:
We're thrilled to partner with StubHub and start offering free bitcoin on millions of ticket sales. Almost everyone in the world loves live music, sports, and theatre and now Lolli.com users can earn bitcoin when they go do the things they love. This partnership is a major milestone for Lolli in expanding our reach into live events and we're excited to offer even more opportunities for people to earn and own bitcoin."
Dave Huff, Head of Partnerships at StubHub, said:
StubHub revolutionized the live events industry by using technology to create transparency, security, and choice for secondary ticket buyers. We are committed to continually innovating to enhance the fan experience and are excited to partner with Lolli to bring this new and first-of-its-kind in the industry opportunity to our customers."
Founded in 2018, Lolli was created with the mission of making bitcoin accessible to all through shopping rewards, allowing anyone to earn bitcoin back on everyday purchases. The company launched its full mobile app experience in June 2021, in addition to its browser extension, allowing shoppers to earn bitcoin on their everyday purchases on the go.
Lolli recently announced a $10M Series A round led by early Chime backer Acrew Capital, and a star-studded cast of investors including Animal Capital, the Gen. Z-focused investment fund led by Josh Richards, Griffin Johnson, and Noah Beck of TikTok's Sway House. The round also included top creators such as Logan Paul, Chantel Jeffries, and Lauren Riihimaki of LaurDIY, and a recommitment from investors such as Alexis Ohanian's Seven Seven Six.
The bitcoin rewards company has given away over $3.5 million in rewards to date.

###
---
Alex Adelman and Matt Senter are available for interview.
---
About Lolli Inc:
Lolli is the first bitcoin rewards application that allows people to earn and own bitcoin when they shop online. Lolli has partnered with 1,000+ top brands and merchants including Priceline, Sephora, and Macy's. Lolli was created with the goal of making it easy to earn, own, and share bitcoin with as many people as possible. The company believes in bitcoin as a global alternative currency and universal store of value and wants to share it with the world. Lolli is available on Chrome, Firefox, and Edge, and on the App Store for iOS. To learn more, please visit lolli.com.
About StubHub:
At StubHub, our mission is to bring the joy of live to fans globally. As the world's most trusted ticket marketplace spanning 44 countries, we enable fans to buy and sell tickets to tens of thousands of events, whenever and wherever fans want to be. Backed by award-winning customer care, StubHub's FanProtect™ Guarantee means every ticket is guaranteed valid or you'll receive a replacement ticket of equal or better value, or your money back. Our business partners include more than 170 properties globally across the NFL, MLB, NBA, NHL, MLS, WWE, NCAA, Matchroom Boxing, plus Paciolan, and Roundabout Theatre Company. StubHub provides the total end-to-end event going experience throughout the world. For more information visit www.stubhub.com.
---
Media Contact: Aubrey Strobel
Email: aubrey@lolli.com